Best Torches For Lampworking Glass Blowing
The first question every aspiring glass blower asks is, "What torch should I get?" This isn't an easy question to answer, because the answer is yes to all of them! The real question is "What is the best torch for you and what do you want to make?"
Here's a list of some of the best torches used by glass artists around the world. Each torch manufacturer brings something different to the table with their unique designs. These torches are used for a number of applications that require certain specifications. Please note: this list was created in no special order (alphabetically).



Bethlehem Burners are constructed entirely of stainless steel, keeping the burner body cool. The torches are equipped with modular valves with precision needles making fuel adjustment smooth and precise. With the low-pressure design and precision front face, the artist will experience a flame that combusts at the face of their art work, wrapping their glass in a penetrating heat at a far better fuel ratio than ever experienced before. Superior design, durability, and complete combustion make Bethlehem Burners one of the highest quality torch manufacturers on the market today.
Overview:
The Alpha Glass Bead Burner is an excellent starter burner for the glass artist working in the medium to small range. The Alpha delivers more flow at a low gas pressure producing the ideal glass working flame. Affordable and convenient, the Alpha is the only torch on the market today designed with your needs in mind. Do you work at home with low-pressure household natural gas? If so, the Alpha would be a dream-come true! The Alpha will melt both soft and borosilicate glass with ease. The torch can also be used at the traditional flame settings of 5 psi gas and 20 psi oxygen. It works equally well with propane, natural gas and other fuels.
Features:
• All stainless steel construction that stays cool while the flame is super hot.
• Allows for a higher volume of fuel at a lower inlet pressure-7 cu. ft./hr. at only 2 psi.
• Ideal to operate on household gas (1/4 psi) and oxygen concentrator (7 psi).
Specifications:
• Burner configuration: Center Fire - 6 jets, Pentagon shape face, Diameter 5/8".
• Suggested glass size: up to a 5/8" / 16mm rod and up to a 19mm Tube.
• Dimensions: 5″ long with a 6″ base
• Net Weight: 2.5 lbs

Overview:
The low-pressure, stainless steel Bravo Bench Burner was designed specifically with the needs of the artistic flameworker in mind. A dual-purpose torch, it will work easily with both soft and borosilicate glass. Made with the precision and quality of all Bethlehem burners, the Bravo's output is surface-mixed and whisper-soft. By varying the atmosphere of your flame, you can use your torch like a fiery paintbrush for shading and highlights. The razor-sharp center is excellent for creating small details. For marbles, sculpting, and vessels, this sleek torch is both cost-effective and fuel-efficient.
Features:
• All stainless steel construction that stays cool while the flame is super hot.
• Allows for a higher volume of fuel at a lower inlet pressure- 15 cu. ft./hr. at only 2 psi.
• Can also operate on household gas (1/4 psi) and oxygen concentrators (7 psi). Includes B size fittings for both Oxy and Fuel connections. Purchase a 4 Inlet to 2 Inlet Adapter (Part #'s EQ101) if you are not going to use a foot pedal.
Specifications:
• Burner configuration: Center fire - 6 jets, Outer fire - 12 jets, Face dia. - 1" (25.4 mm)
• Full flame consumption: Gas: 2 psi; 15 cu. ft./hr. (425 l/hr.); Oxygen: 8 psi; 66 cu. ft./hr. (1867 l/hr.)
• Works: Rod - 1" (26 mm) Tube - 38 mm
• Dimensions: 6" long with a 6" base
• Net Weight: 3 1/2 lbs.
Overview:
The Champion Bench Burner is a two stage, stainless steel, surface mix flame working torch with separately controlled outer and inner flames. Each stage is controlled by one gas and one oxygen valve, and the torch comes standard with a four port manifold.
The low-velocity flames of the Champion torch allow flame workers to produce a wide range of fuel mixtures while keeping the flames workable and gentle to the glass. These flames bathe the glass in even heat and gently heat the glass from all sides, much like working glass in a furnace. This type of flame is excellent for every style of flame working, including large hollow work, solid milli work, color-mixing and fine detail work with difficult colors. The large diameter, low-velocity flames produced by the outer fire of the Champion, make evenly heating large amounts of glass with no cold spots a breeze! Even highly oxidizing flames are soft and even.
The Champion was engineered for low-pressure, high heat performance and is one of the most efficient large torches on the market today.
Features:
• Comes standard with a four stud manifold.
• New ball-bearing scroll provides smooth adjustments and automatically locks the torch at the desired angle.
• Reconfigured gas and O2 ports for most efficient fuel combustion.
• Stainless steel construction keeps the torch cool to the touch, even at hottest flame.
Specifications:
• Burner configuration: Center fire - 6 jets, Outer fire - 30 jets, Face diameter -1 1/8" (28.575 mm)
• Full flame consumption Gas: 5 psi; 24.96 cu. ft./h (706.8 l/hr. Oxygen: 20 psi; 88.13 cu. ft./hr. (2496 l/hr.)
• Works: Rod - 44 mm tube - 80 mm +
• Dimensions: 6 7/8" long with a 8" base
• Net Weight: 8 3/4 lbs.
---
---
The triple mix technology developed by GTT is the advanced use of multiple oxygen ports to control, manipulate, and enhance flame characteristics. The triple mix torch design surrounds each fuel jet with oxygen and has an independently controllable oxygen injector that shoots oxygen in the middle of the fuel stream. This allows more fuel to be burned cleanly, resulting in more heat per jet than normal torches. This design is also extremely efficient on fuel and oxygen usage. Even though there are more oxygen valves, the oxygen is used to its full potential to mix with the fuel for a very clean hot flame. This is why the flame characteristics of a GTT torch are superior to other torch flames. The triple mix technology makes flame adjustability easy with no tips to change and no other torches to buy to get the flame types needed for different glass working styles or types of glass. By running the red and green valves with a little blue valve will result in a large blowing flame that is gentle on soft glass and hot enough for any boro work. Using more of the blue valve will result in a very tight shoulder for precise heating and a penetrating flame. This flame is capable of melting boro similar to soft glass because the heat penetrates to the center of the work. On the Lynx torch or the center fire of 2 or 3 stage torches, the red and blue valves may be run to get a small, pinpoint flame for the utmost in detail work. This is the smallest flame available from any torch on the market. The triple mix technology is capable of imitating premix flames with the safety of the surface mix design. Combining safety, efficiency, and adjustability along with outstanding flame characteristics, triple mix technology is the heat wave of the future.
The Bobcat is newly redesigned for more versatile flame characteristics. The Bobcat is a standard surface mix torch with 7 jets. The Bobcat is capable of flame sizes from a 2" long pinpoint flame for detail work and finite heating to a 9/16" diameter, 13" long flame for 1.5" solid borosilicate glass work. The Bobcat can work up to 2" borosilicate pendant. It is great for making beads, marbles and sculptures in soft or hard glass.
The flame characteristics of the Bobcat make it a very efficient, clean burning torch that makes the most difficult colors and effects easy to work and control. The penetrating heat of the flame make borosilicate beads and pendants easy without any change to the torch setup.
The Bobcat runs very well on 5 LPM 5 PSI concentrators with optimal performance on a 10 LPM concentrator. Fuel pressures can be run as low as 1/4 PSI on Natural gas or Propane. The Bobcat makes the most heat out of the available fuel and oxygen for an extremely clean flame with no carbon on the torch when run properly. The Bobcat is not limited to small concentrator use, it does extremely well on 10 LPM concentrators as well as using tanked oxygen. This means that it maximizes the output of smaller oxygen concentrators and is very efficient on tanked oxygen too!
The Bobcat comes standard with B fittings. The stainless steel base has 4 holes for securing the torch to the work table, and can be used as a forming and shaping tool for hot glass pieces. Also included are complete instructions and cleaning wires.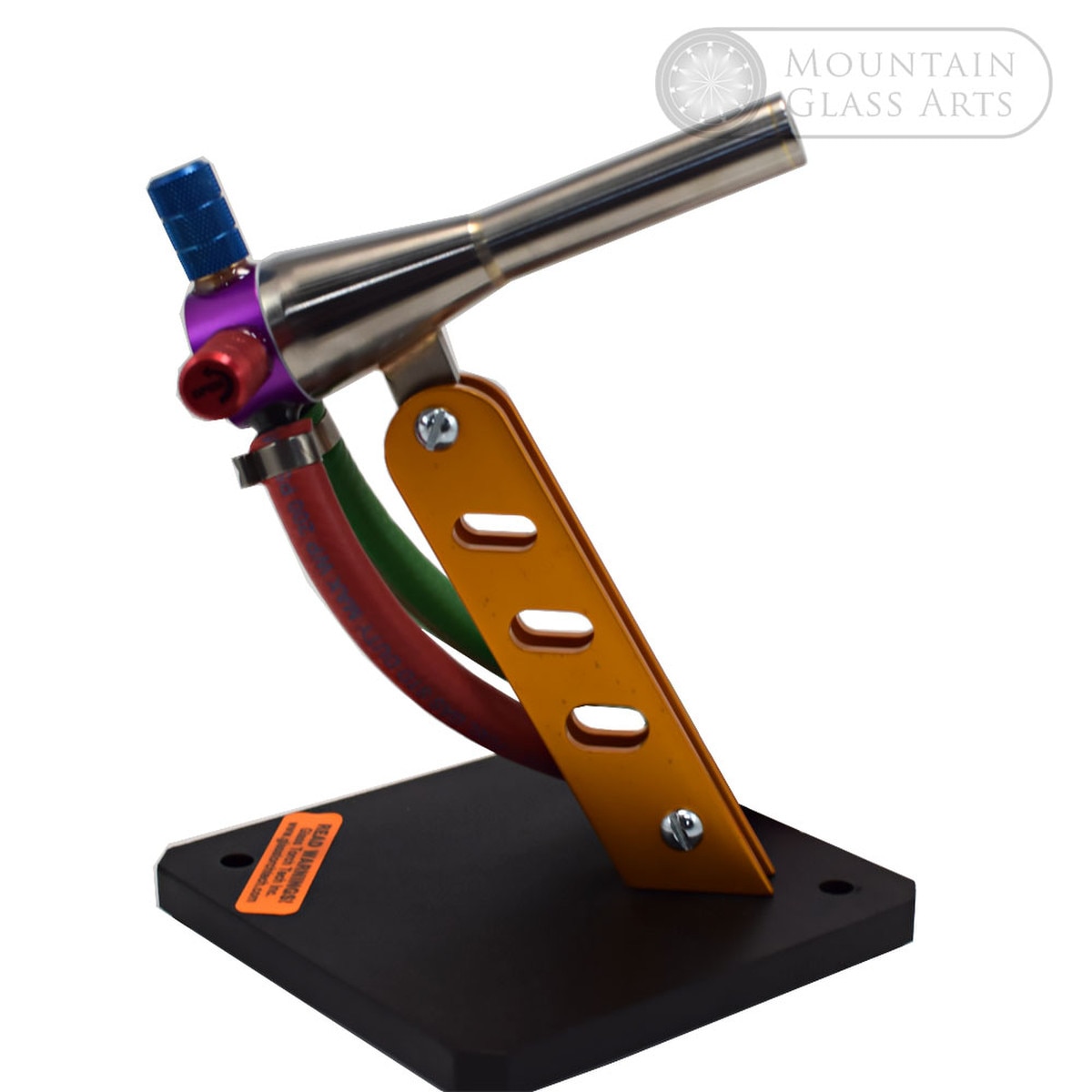 The Lynx is a seven jet, Triple Surface Mix Torch. It was the first Triple Mix Torch from GTT and their patented Triple Surface Mix Technology makes their torches produce the most efficient flame available for today's glassblower. These torches burn cleaner and have more flame characteristics than any other torch on the market today. This is the first Triple Surface Mix size in the lineup of GTT's Triple Surface Mix Torches. It serves as the center fire for all the larger Two and Three Stage GTT torches.
Once again rising above the ordinary, GTT has created the next generation of the standard torch, but there is nothing standard about it. The Scorpion uses the mighty Bobcat as the center fire and is equipped with B Fittings. The Bobcat is well known for its efficiency on a 5 LPM concentrator and the great ability to work both soft glass and borosilicate glass with ease.
The Scorpion has an 8 jet outer fire using our new patent pending 100% surface mix design that optimizes 10 LPM or two 5 LPM concentrators with optimal results. The Scorpion makes the flame size of larger torches with fewer jets, owing the phenomenal performance to the newest GTT innovations in jet design.
The Scorpion was designed with concentrators, low pressure and low consumption in mind. The Scorpion runs great on one 10 LPM concentrator, two 5 LPM concentrators or tanked oxygen. Oxygen consumption is 11 LPM (22 CFH) at the maximum flame size. It requires as low as ¼ psi to 5 psi of natural gas or propane with a low consumption rate of 1.5 LPM (3 CFH) at the maximum flame size. The Scorpion is the master at using low pressures for optimal results for soft or hard glass.
The Mirage torch is a 2 stage torch that uses the powerful Lynx 7 Jet for the center fire and 2 rings of jets with a total of 33 jets for the outer fire. This completely surface mix torch uses the patented Triple Mix technology and 40 total jets to provide unparalleled power for all types of glass.
The Mirage is the one of the most popular of the 2 stage Triple Mix torches in the lineup. It is great for soft or hard glass with the ability to produce many flame types from a soft bushy flame to a hard driving flame. The flame chemistry that is achieved with the Triple Mix technology has a wide range including a fuel rich reduction flame, a neutral flame, an oxygen rich oxidizing flame, and an over-oxidizing flame. These flame types make any type, color or effect of glass easy to work and manipulate.
The Mirage comes standard with a 4 stud manifold that allows for the most flexibility for any setup to be run. The primary use is for a foot pedal to be used to turn the outer fire on and off with the outer fire valves preset to the desired setting. Also the 4 stud can make use of different oxygen sources such as a concentrator on the center fire and tanked oxygen on the outer fire. In this situation the fuel will "Y" together at the torch for simplicity. A foot pedal is NOT required for a 4 stud torch, the hoses can "Y" back together to use a single fuel source and a single oxygen source with the option to use a foot pedal in the future.
The Mirage comes with 1' of 3/16" hose and adaptors with filter screens to adapt to standard 1/4" ID grade "T" hose on each stud. The adaptors have a barb that the 1/4" ID grade "T" hose slides over and is clamped securely. The Mirage comes standard with a purple manifold, red, blue and green valve caps and rack and pinion adjustment. It is mounted on a powder coated base that has holes for securing the base to the work table. Also included are complete instructions, a cleaning kit, and an instructional DVD.
---

In 1918, Carlisle was primarily manufacturing gas burner equipment. By 1939, the need for a larger bench mounted burner for scientific glassworking gave birth to the CC burner. This burner was developed by Carlisle in conjunction with Corning Inc. Over the next few decades, more and more glassworking burner equipment was brought on to their extensive line of products.
Today, Carlisle is still a family owned and operated manufacturing company. Their 20,000 square foot manufacturing facility located in Millville, NJ, employs a staff of 24 people. Carlisle continues to be an enthusiastic partner to the glassworking community. By supporting the various glassworking societies through donations and involvement, they look to help the art of glassworking thrive in its renaissance.
Overview
When Carlisle first set out to create the Mini CC, their goals were simple. Create a burner that is suitable for producing soft glass beads and smaller borosilicate work that featured the durability that Carlisle is well known for.
Using a very different flame pattern from many of the other torches in its class, the Mini CC presents an extremely hot flame, that is also very bushy. This bushy flame creates a soft working environment that also provides superior radiant heat, giving the ability to work with larger soft glass pieces with a much reduced chance of thermal shock.
Features
• Durable design with brass housing
• Stainless steel tube matrix of 7 fuel gas ports
• Stainless steel base with bench-mounting holes
• Ball joint attachement between the torch head and the base, allowing for 15 degrees of adjustment in any direction.
Specifications
• Fuel consumption 1.5 LPM (Liters Per Minute) of propane and
7 LPM of oxygen (based on standard usage)
• The recommended operating pressures are 2 PSI (Pounds per
Square Inch) for fuel gas and 5 PSI for oxygen.
The Carlisle Hellcat is a totally surface mixed 4 inlet burner that offers a high level of versatility in the flame. This wide range of flame capabilities makes the Hellcat the perfect bench burner for beginners and experts alike.
The Hellcat bench Burner is suited for use with both hard and soft glass. It has been designed for increased productivity, attainable through higher flame temperatures and increased flow capabilities of gases. The center fire of the Hellcat is exactly the same as the Mini CC, seven tubes. Then using the outer two adjusting knobs you enable 14 more tubes to give you a much broader range of heat to work with.
Features
• Durable brass body
• Stainless steel nose cone to help the torch run cooler and prevent heat build-up
• Stainless steel tube matrix with seven tubes in the center and 14 tubes on the outer fire
• Ball joint stand connection, allowing for an increased or decreased tilt of 15° and articulation. This allows the burner to have excellent positioning capabilities.
• The base also has four rubber feet to reduce the likelihood of the unit from sliding during use and features two mounting holes for permanent installations.
• This burner may be used with oxygen and either natural gas, propane, or even hydrogen.
Specifications
Consumption based on standard usage is approximately 1.5 LPM of propane and 7 LPM of oxygen on the center fire only. With both inner and out fires, 4.5 LPM of propane and 21 LPM of oxygen.
The recommended operating pressures are 2-3 PSI or fuel gas and 5 PSI for oxygen.
Overview
The Carlisle CC Burner is known as a cannon style burner. Its large outer case and tremendous flame output resembles the profile of a "cannon". This burner may be used with a mixture of oxygen and either natural gas or propane.
This burner produces two distinctive flames, the centerfire (pre-mixed) and the outer fire (surface mixed). The centerfire, which has characteristics of a single ported tip, produces a flame similar to what may be achieved with a Carlisle hand torch.
Features
Two options for the centerfire tip.

• The #5 tip has the largest orifice of the piloted centerfire tips, this produces more BTU's than the smaller #3 tip.
• The #3 centerfire tip produces a smaller, more defined flame
Two styles of bases

• Ball and Post mount. The Ball and Post base utilizes a crescent shaped solid steel base with a ball and socket connection. This style offers a selective articulation. In order to adjust the angle of the head, the user releases a thumb screw at the base of the post. When re-tightened, this provides positive burner positioning.
• The Rack and Pinion style mount utilizes a pinion gear to pivot the burner in an arc, offering greater range of positioning than the Ball and Post mount. The user can adjust a knob on the side of the mounting device for quick, accurate positioning.
• Outer brass shell and machined brass body
• Four color coded metering valves
• Standard "B size" hose connections
• Heat Exchanger is standard with any CC burner. Manufactured from aluminum, the Heat Exchanger dissipates heat from the burner body. The Heat Exchanger has cooling fins providing increased surface area for the transfer of heat.
• The 4 Inlet Version will require the purchase of part # EQ101 if you are not using a foot pedal. Please call if you have any questions and we will be happy to help.
Specifications:
• The CC burner will produce 95,000 Btu's @ 5 psi natural gas.
• Maximum cubic foot per hour: Gas 90 and oxygen 180
• Recommended pressures: Gas 5psi and oxygen 10 psi
---
The base for this is more than 50 years experience in burner construction with the demand to offer our customers the optimum heating unit, with a view to the efficiency and the technical equipment. During the development we consequently pay attention to the demands of the users and the continuous improvement leads to more compact and more efficient burners. The burners can be delivered for all types of gas.
Herbert Arnolds are noiseless bench burners that are used with propane, oxygen, and optional compressed air. "Herbies" are built with a special flame stabilization system allowing them to operate the burner a surplus of air and thus making a cooler flame. The Zenit torch is mounted on a solid cast iron foot with an adjustable ball joint.
The propane, oxygen, and compressed air version of the 40mm Herbert Arnold is designed to work with boro glass. Simply put, the Zenit torches are one of the most impressive, diverse, and powerful torches on the market. Not to mention that they are just absolutely beautiful to look at!
Advantages:
- Noiseless working method
- Large field of application
- Stable, homogeneous flame aspect from sharp, concentrated pin-point flame to a large intense flame, continuously adjustable by a single twist grip
- Burner control via ball valves making it maintenance free and resistant to wear
- High efficiency flame through intensive combustion of gases
- Long lasting by using high-quality materials and components
- Burner head is made from solid non-scaling stainless steel
New:
- Stop valve for gas at the burner body
- Air regulation possible by means of needle valve
- Improved pin-point flame
Please note: A Herbert Arnold Pressure Reducer is required to properly run this torch.
---
---
The National8M bench torch used with natural gas, propane, hydrogen, & oxygen offers versatility for anyone in glass working from bead making to quartz glass. The 8M comes standard with a swivel ball mounting on a stable, cast steel U-shaped base. The National8M Torch allows both surface mix & pre-mix applications with the simple interchange of tips.
The SM-5, SM-7, SM-11, & SM-21 surface mix tips are easily interchangeable simply by twisting on & off (No Wrenches!).
Pre-mix operation is just as easy with the PA-1 Adapter! The PA-1 Adapter allows you to use most of National's natural gas or propane & oxygen tips.
This is a widely respected and versatile premix torch for lampworking. Economical gas usage, ease of operation, and low cost replacement parts make this a great beginners torch that will last for years to come. Also a perfect torch to consider if you are a beadmaker looking to try your hand at lampworking. Use this torch (3A-B) if you plan on buying your hose by the foot. Use any National OX, HTM, HT, or HTC-3 tips (not included).
National 3B-B Torch With "B" Threaded Hose Connections
National Oxy/Gas Hand Torch with threaded fittings - This is a widely respected and versatile premix torch for lampworking. Economical gas usage, ease of operation, and low cost replacement parts make this a great beginners torch that will last for years to come. Also a perfect torch to consider if you are a beadmaker looking to try your hand at lampworking. Same as above torch but with threaded fittings, use this torch (3B-B) if you plan on buying a hose set with threaded fittings. Use any National OX, HTM, HT, or HTC-3 tips (not included).
National 6B Bench Torch - The 6B is a compact premix torch ideal for any bench top application like lampworking. A new feature on the 6B is a 360 degree free rotating elbow, which has been made possible by including an O-ring on the elbow insuring a positive seal. The elbow can still be set to a fixed position by simply tightening down the nut. Use any National OX, HTM, HT, or HTC-3 tips (not included).
---
---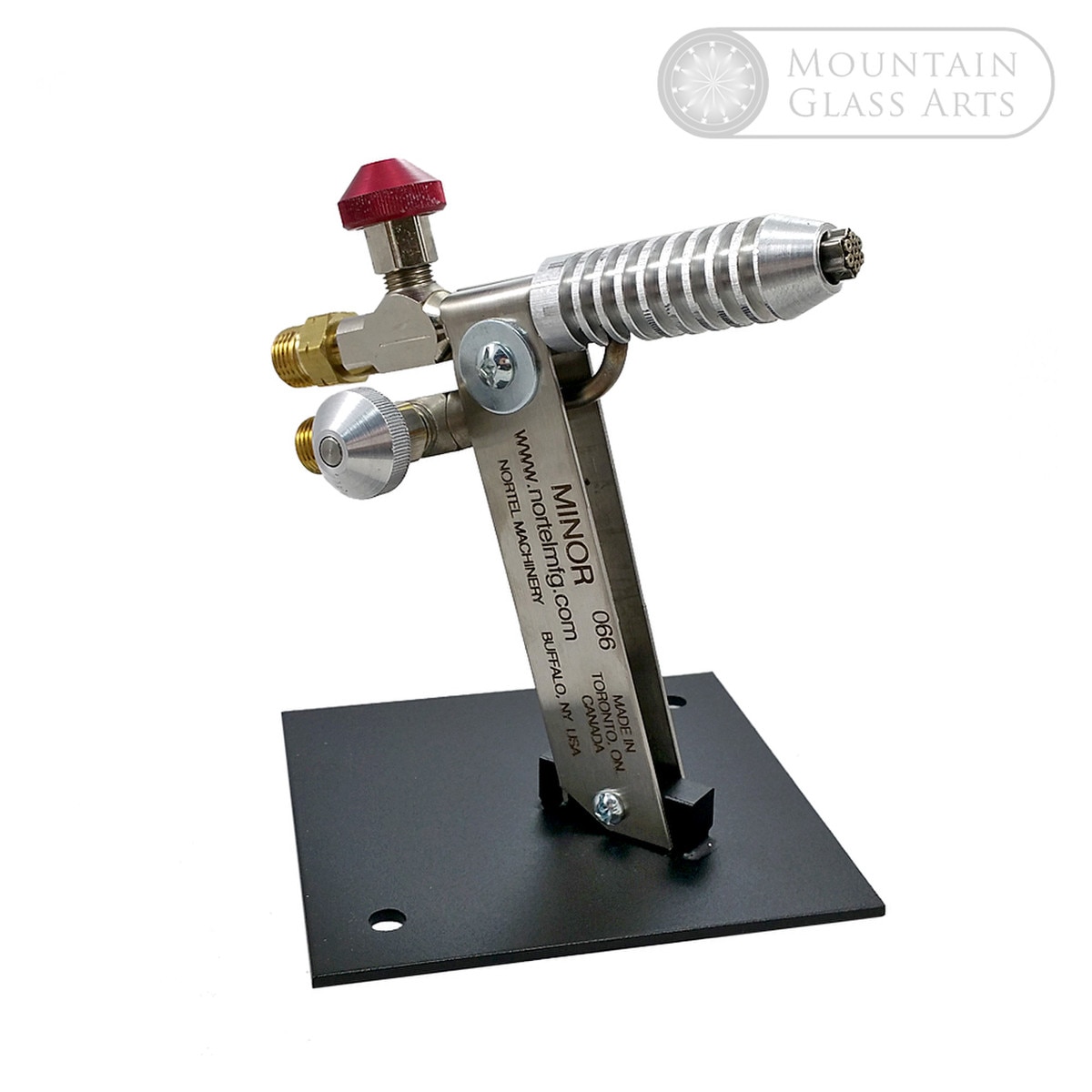 The Minor Bench Burner is especially designed for the lamp worker, with surface mix stainless steel front end and precision needle valves. Uses either natural or propane gas with easily adjustable control valves. Variable flame size with no tips to change and narrow head for easy manipulation. Smooth action tilt, heavy base and easy take apart construction. The torch is easily removed from the stand for use as a lathe burner. Uses 1/4" BC hose. This is a 7 jet burner.
Flame size: Needle point to 3/4 inch
Suggested gas and pressures:
Propane: 2 to 6 PSI
Natural Gas: 1/4 to 2 PSI
Oxygen: 5 to 8 PSI
This is a 45-port, round torch, configured as a center ring of 16 ports, surrounded by a ring of 27 ports. Flame width can be up to 1.25 inches. It has a Mega Minor mounted on top.
Can be used with natural gas and oxygen or propane and oxygen. Use 3/8 inch or 5/16 inch hoses.
---
---
When you pick up The Little Torch(TM), you know immediately that you are holding a magnificent instrument which will enable you to extend your skills far beyond all previous limits. Whether you are in the first stages of learning your craft or have mastered it completely with more limited tools, The Little Torch will open a new world of possibilities for you.
Smith Equipment's Little Torch welds an unlimited range of materials, brazes and solders the tiniest elements with ease, yet produces enough heat to weld steel up to 1/8" thick or melt 3 oz. of silver. Features:
- Infinite Control Weighing only 1.5 ounces, The Little Torch(TM) is easily maneuvered in areas impossible to reach with conventional torches.
- Variety of Flame Settings and Sizes Produce a perfectly controlled, stable flame, hot enough to melt commercially weldable metals, glass and ceramics with thread-thin flames up to 6000 F.
- Unmatched Flexibility Works with any commercially used fuel gas, and strong, flexible hoses connect to any standard pressure regulator.
- Exclusive Heating Tips Multi-orifice tips for heating or melting up to 3 oz. of metal.
The Little Torch feels right in your hand. It is just a fraction wider and longer than your middle finger. This superbly balanced torch with a rugged aluminum alloy body weighs only 1.5 ounces. The Little Torch features a thin, extremely lightweight hose which provides added maneuverability. In short, The Little Torch is designed to meet the most exacting industrial standards for a small, multi-purpose torch. The Little Torch has unmatched flexibility -- it can be used with several fuels including acetylene, hydrogen, propane, propylene, MAPP, or natural gas. It produces a perfectly controlled, completely stable flame hot enough to melt commercially weldable metals, glass and even ceramics. It may also be used with special heating tips to melt up to 3 oz. of metal.
The Little Torch has a wide range of flame lengths and heat output for various metals and thicknesses. The operator can vary the flame length to his/her exact requirements by adjusting the oxygen and fuel gas valves on the torch body. The Little Torch has many engineered-in safety features. Color coded hoses and valves help prevent errors in setup and operation. Over 80 years of Smith experience in the manufacturing of welding equipment gives you assurance of quality and satisfaction. 23-1001D Includes 11-1101C torch, size #3, #4, #5, #6, and #7 curved tips, 8' hoses and complete instruction manual. Encased in display box as shown ("B" hose connections fuel 9/16"-18-LH, Oxygen 9/16"-18-RH)
---