Lumiere Lusters™ by JetAge Studio
High Temp Flakes & Powders
Lumiere Lusters™ by JetAge Studio are specialty color shifting, heat resistant metal oxide powders and flakes that are magical in lampworked glass, and a multitude of other mediums. These flakes are rated to resist heat up to about 1400F, and can be worked in soft or hard glasses.

Similar to Dichroic Extract powder, they offer a lot of color-shifting sparkle that changes at the viewed angle. The larger particle sizes create a lot of shine that you cannot get from micas, and give quite a different effect from powdered extract. They're also a great cost effective alternative to dichroic coatings and are more heat tolerant than regular powdered micas.

PLEASE NOTE: Lumiere Lusters™ by JetAge jars are filled by VOLUME (not actual weight) and are available in 3gr./ml. (aprox. .25 gram actual weight of flake), 5gr./ml. (aprox. .50 gram actual weight of flake) and 10gr./ml. (aprox. 1.5 gram actual weight of flake) sizes.
They do this because the flakes are extremely lightweight, bulky and fragile, and each color actually weighs differently. Likewise, their powders are much heavier so there may be more actual product weight than the specified jar size. To manage this, they simply fill each jar up to the top in jar sizes that have been designated by industry standards.


---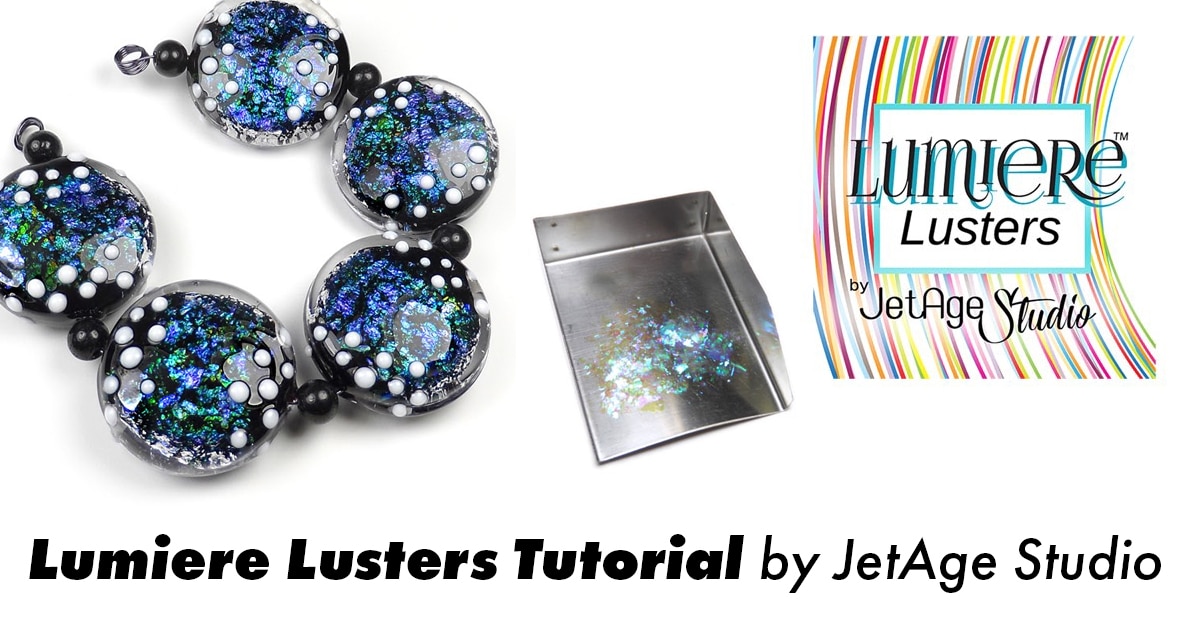 Lumiere Lusters Tutorial by JetAge Studio Download
Here's a tutorial on the entire process of successfully lamp-working JetAge Studio's Lumiere Lusters dichroic flakes in 104 coe softglass.
This method will work with regular flakes, opal flakes, & powders.

Lumiere Lusters are a new metal oxide flake product that produces similar resuluts to dichroic coatings and have their own design qualities unlike anything else.
They can take quite a bit of heat, but like dichroic coatings, they are sensistive to overheating with direct flame, or prolonged working times.
If you practice the techniques in this tutorial, you will be able to produce consistently beautiful results by discovering the best areas in your torch to work the lusters without burninging them out.

---