MGA WEST
180 S Danebo Ave, Eugene, OR 97402
(541) 505-8248
Monday - Friday 10AM - 6PM
Now Open!🙏

Mountain Glass West
UPDATE 11/7/19
Hello again everyone!

Thanks so much for your patience while we created the best lampworking supply store we possibly could here in Eugene. After years of requests, we are humbled and honored and ready to have the opportunity to serve this amazing community of glass artists.

We are ready and taking appointments for the next 5 days starting Thursday November 6th! We will be booking 1 person or small group per hour. Please CALL ASHEVILLE if you would like to stop in Eugene during our soft opening, starting November 7th. Our Asheville crew will be happy to help you set up a time to visit! They can't answer all your questions about the Eugene store, but we will call you back, answer your questions and provide all the info you need 🔥🤙🏼🔥🙏

After the next 5 days of testing, we should be ready to open, and we'll publicly announce and share our Eugene address and phone lines with everyone. Meanwhile check out the progress as we've been getting ready! And thanks always to YOU! More posts to come, stay tuned 😁

***PLEASE REMEMBER WE ARE UNABLE TO SHIP FROM EUGENE, WE EXPECT TO BE READY IN ABOUT 6 MONTHS, we'll start shipping as soon as possible***

Kind Regards, the entire crew at Mountain Glass Arts


UPDATE 8/27/19
Hello again everyone!

We're past due for an update and we were hoping to be open by now for sure. I want to thank you all again for your patience while we put this store together, believe us, we want to be open!

As of now, we are still short on inventory and have been placing and processing our orders in as fast as possible. In the meantime we have pretty much put our shop together, passed all our inspections and are putting on the finishing touches. On any given day we have multiple people working to place, process and receive orders for the Asheville store, but we have been caught off guard with how long it is taking to stock up Eugene.

Topping off Asheville daily is a huge task but stocking Eugene up from 0 is taking a lot longer than we expected. We know there are many of you waiting anxiously for us to open and we apologize for these delays. We are working 7 days a week to get Eugene open. As soon as the crush of products we are receiving and ordering are in house, we will hopefully be making the next update the opening announcement.

Unfortunately we expect this could take another month give or take, but once we're open we'll be ready to meet all of your lampworking supply needs at the best prices around.

Thank YOU for your continued support and patience with us, we really appreciate it!

In the meantime be sure to catch Charlie and Aron this coming weekend at the Eugene Glass School 20th Anniversary Flame Off ! MGA will have a promo booth and some giveaways going on, be sure to stop by Saturday or Sunday.

More info here


UPDATE 6/25/19
Hello again everyone! We all hope you have been enjoying a great summer so far.

I wanted to give you all an update on the new store and thank you all again for your patience. If there's one thing I've been consistent with at MGA over the last 16+ years, it's the old saying if it ain't broke don't fix it.

Basically, as we try to get this store open we are recreating all the behind the scenes processes and procedures that stock glass on the shelf so you can buy it. It's a massive job and coordination between locations that are making this new store possible. So while we are now behind schedule, were not going to change anything to rush this store open. We want to deliver the same solid customer service & huge selection in stock at competitive prices, and there are no shortcuts to making that happen. We've been dealt a couple setbacks along the way, as we expected, however we are making great progress and pushing through.

The amount of logistics in motion right now are incredible, but the good news is we are getting closer, and thank you all for you interest in our West coast store! Without your feedback and support over the years we would have never even considered taking this on. We've got 2 staff members who moved from Asheville, Chris & Charlie, and many of you may also know Aron and Buck formally from Winship in Eugene, they are hard at work in the new location, in addition to the entire Asheville crew working to open this store as fast as possible.

Currently, it looks like our best case would be opening in late August.

We'll keep pushing for an earlier date, and keep you all posted with another update in a month or so.

Thank you so much for your patience and understanding. We know many of you are counting on us to open up and make getting your supplies much easier, and we appreciate and respect that. From all of us at Mountain Glass Arts, thank you very much for your continued business and support !!



As a reminder, we will not be able to ship from Eugene at all, we will have no shipping department set up until 6 months or so after we open the retail shop. We will begin shipping as soon as possible though. In the meantime we hope to see you all stop in the next time you are passing through Eugene!

Kind Regards,
Chris
Founder and CEO



Here's a great shot of Aron working so fast on our new checkout that we barely captured him.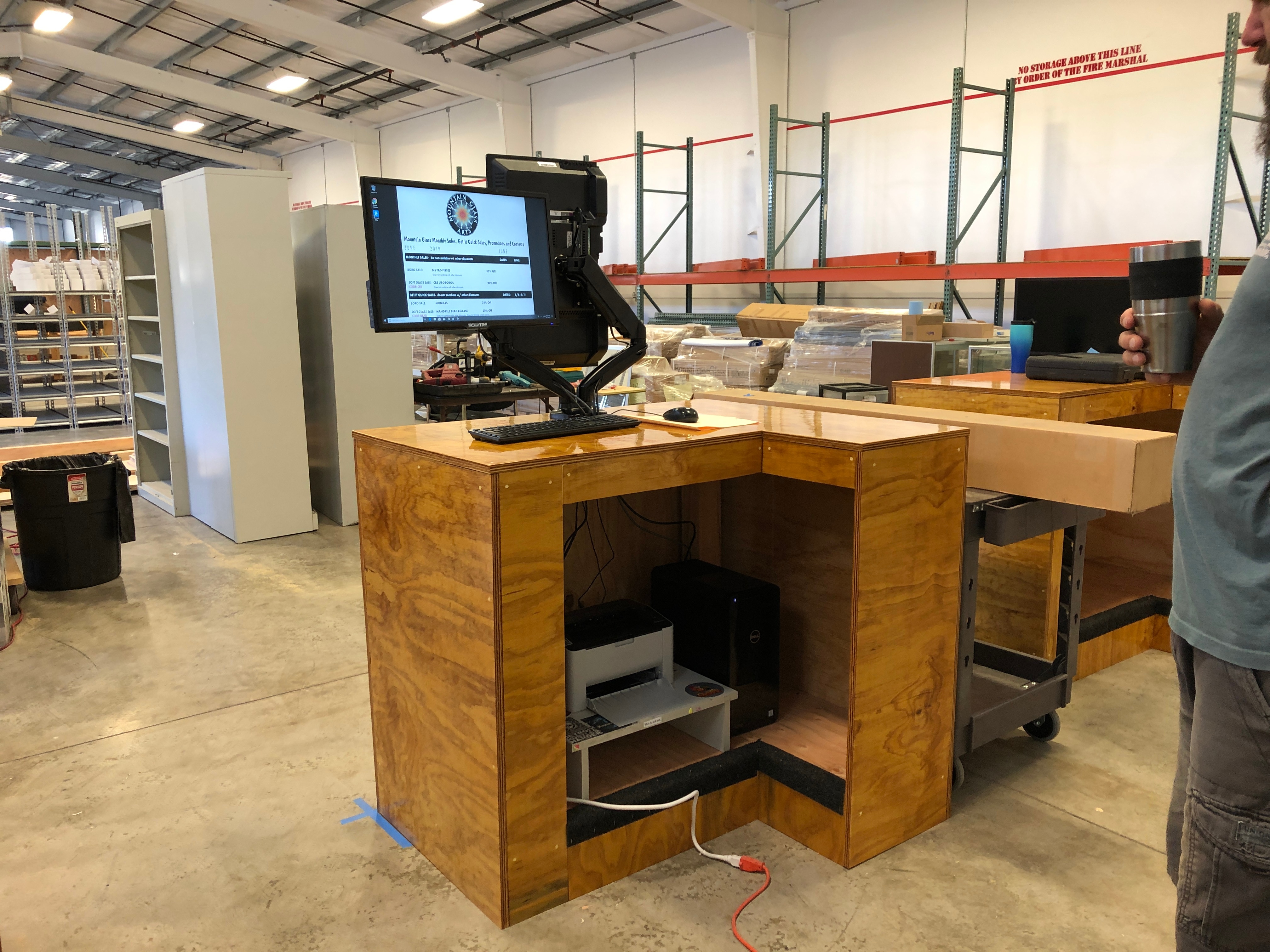 We'll have 3 efficient checkout stations to get you all on your way as fast as possible, here's buck keeping those fast fingers warmed up in the meantime!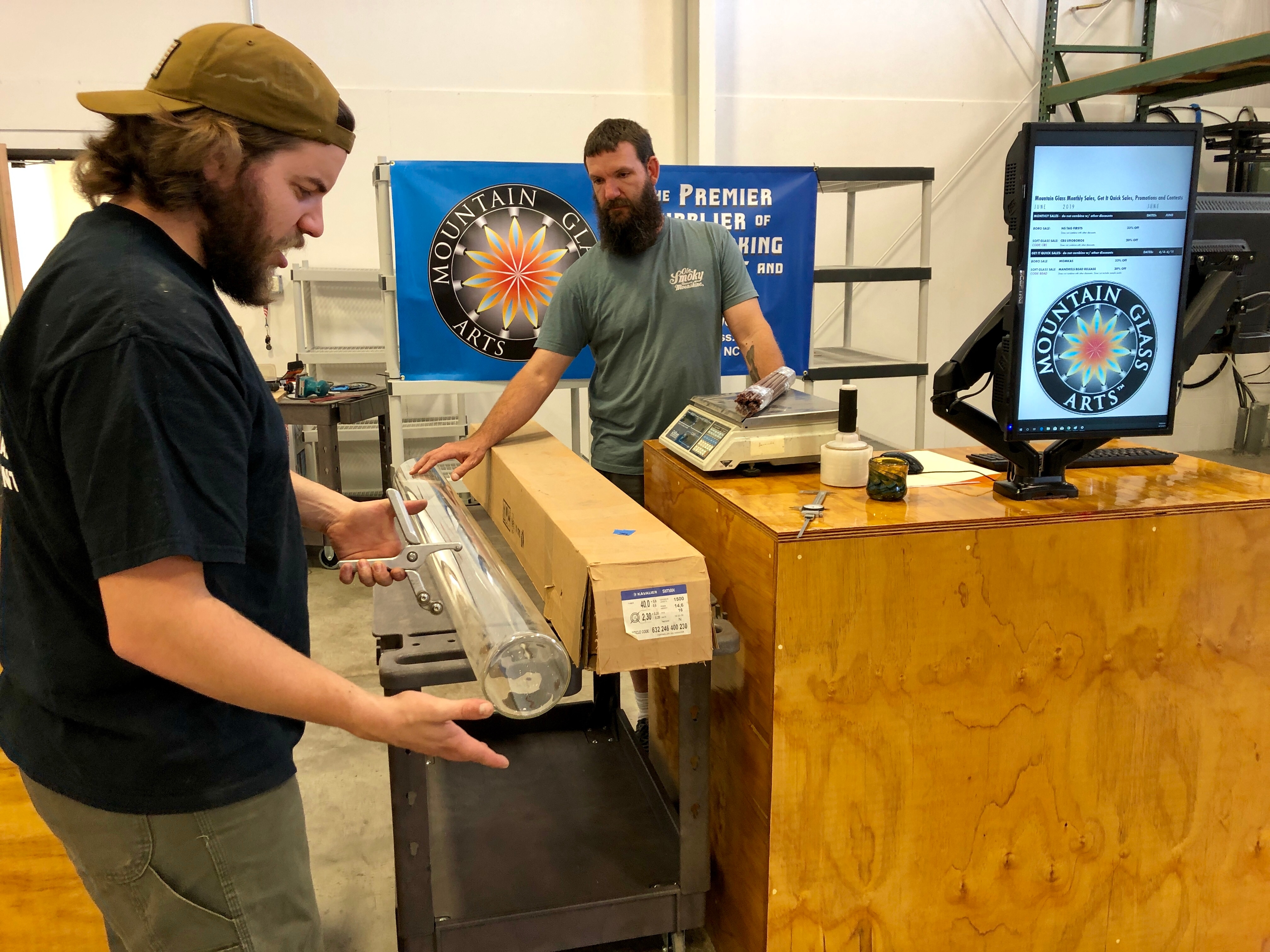 Here's Charlie trying to figure out how to cut 150mm tubing down with a Jaws tool (he knows better!)


UPDATE 4/30/19
Hello everyone, we wanted to let you all know that we are on track with progress on the Eugene location.

Racks are going up and continuing to be built as they are delivered. All of the network, computer and security work is in progress.

Thousands of signs and boxes are in progress and design work on the final layout is being completed. Back end inventory and software work to run 2 locations has kept us busy for a couple weeks as well.

Much hard work still to complete and we appreciate everyone's patience while we continue all the less fun work.

We've got some products already on order and are looking forwards to having the widest variety of borosilicate glass supplies available on the West coast.

As we get closer to being able to nail down an opening date, we'll be sure to let you all know. In the meantime, thank you again for your continued support and positive feedback!

Kind Regards,
Chris
Founder and CEO
---
UPDATE 4/7/19
We would like to thank everyone for the out pouring of support and interest in MGA West!! We have a few reminders for you all;
We promise to keep you all updated as things progress. I have been working on this project for over 6 months and we still expect to open late spring / early summer.
We will be within 5 minutes of the old Glasscraft location and will post the address when we are ready to open.
At this time we are unable to deal with the overwhelming number of requests for jobs or inquiries to become a vendor for MGA, we simply have too much work to do on the building at this time. We also for the moment have our staff ready to go. If you still want to apply, feel free to send your cover letter, resume and 3 references to info@mountainglass.com. We will be unable to reply but we will keep your resume on hand for any future hiring.
As a reminder, we will be opening a fully stocked retail store first, with over 5,500 items stocked deep!
After 6- 12 months we will begin shipping out of this location as soon as our back end systems are ready. We will be unable to ship product until then.
I'd like to again thank everyone for your support over the last 16 years of MGA Inc., a company built on customer service back when there was none.
A company built for lampworkers, by lampworkers.
Kind Regards,
Chris
Founder and CEO
---

Hello everyone,
I'm Chris Svec, founder and CEO of Mountain Glass Arts Inc. Not many of you know me, but I've been working here for the last 16+ years, trying to build the best glass supply company possible. For the first 10 years or so, co-founder Steve Schwarz and I worked in every position, and back in the good ole days, many of you have talked to me on the phone or have seen me in our retail store. Then I retreated to my cave at some point. In all seriousness, Steve and I needed to be in front of computers all day every day so we could take MGA to the next level. It's not always fun, but the need to focus on operations and logistics became a big responsibility. It is easy to ship orders until a certain point, then you hit big walls, basically operational problems that must be solved. They are inevitable.

We had tremendous customer support and many of you realized there were real glassblowers running this company, and we cared! Our only advertising was word of mouth for a long time. We truly appreciate all the positive feedback over the years, thank YOU for rooting us on and for your support. Because of YOU, after all these years its time to step up again to help make your life a little easier. MGA will be opening a fully stocked retail store in Eugene, OR sometime between late spring to early summer 2019. I have personally been working on this project for the last 6+ months. We're coming in big and fully stocked, no more shortages of supplies in Eugene. While we may have a small ramp up period, our goal is to stock all 5,500+ SKU's we offer in Eugene when we open. We will have a retail store open but we will not be doing any shipping for some time (sorry guys), stay tuned. We will begin shipping out of Eugene as soon as we have all our systems in place, probably about a year after we open.

Imagine having just a few choices when buying your glass supplies, all at list price, and no matter where you ordered, your supplier has little information on what they are selling, will be out of stock on most things you need, send the wrong items anyways, pack them in a big mess, they arrive broken and when you call they treat you like you are bothering them. Well, that was how things were in 2002 when I founded Mountain Glass Arts . In 2001 I moved from Eugene after 2 years learning glassblowing from a friend that had been telling me for years to "come on out man!". And boy was his wife stoked when I pulled up in my VW with 17 cents to my name after a long strange trip, I mean tour.

I went home to Ohio after my dad passed and started helping my mom and blowing glass in her backyard. I thought getting supplies was near impossible, but selling finished pieces wide open! I opened a supply order and after chasing foam peanuts around my neighbor's yard I thought enough is enough already and I started MGA Inc., with my friend Steve, in an old crappy meat cooler that was basically our office, retail and shipping/receiving department all rolled into one, in Cleveland OH in 2002. I had 1 goal, treat people the way I want to be treated and get them their supplies fast, and if we made a mistake, own up to it and try to make it right.

In 2004 we made the move to Asheville and in the fall of 07, we hired our first solid employee that stuck around awhile, many of you may know him as Joe Blanchard, today Joe is our GM. Between the 3 of us we pushed hard on our goals of top notch customer service, fast shipping, deep stock on a good selection and competitive pricing. I can't say enough that it would be impossible to describe the amount of work that goes on behind the scenes to make MGA what it is. We spent around 3 years developing custom shipping software and a new website recently. We are still tweaking the new site but we have an exciting announcement coming soon regarding the web site, based off YOUR feedback for years. Again, stay tuned ! I'm glad we spent our time and money carefully when the industry was busier because we have built the foundation for a company that can quickly, accurately and efficiently ship your orders out at very competitive prices. We also feel we have slipped a little bit on stocking enough inventory over the last year or so, and for that, we apologize. We are currently working to bring inventory levels back up to make sure we have what YOU need, when you need it. Eugene will also contain the largest variety of borosilicate items available on the West coast anywhere. If you have not been in our Asheville location, get ready for the fun of shopping and ease of finding what you need fast and easily in a fully stocked 13,000 SF warehouse.

Thank you so much for your support of MGA over the last 16+ years.
What you've come to expect from us
Your One Stop Shop!
The ability to fill all of your glass needs in 1 order with an inventory of over 5,000 products, and growing, all under one roof.
Fast & Guaranteed
Same day shipping on orders received by 2:30 PM (EST) on orders shipping via UPS. All orders shipping USPS are prioritized, but please be aware the post office picks up between 2-3PM. Choosing UPS before 2:30 guarantees your order out the same day.
Accurate On-Line Stock Status
Why order something that's not available? While no inventory system is perfect, we think you will find ours is as accurate as possible and if we are out of something unexpectedly you will be contacted so you can make a decision that's best for your needs.
Accurate Shipping Quotes
We've worked tirelessly for the last 3 years on our technology to solve one of the biggest complaints in our industry, after all, what good is that other sale when your shipping cost doubles after you order!
SOS
Save on Shipping! Does your supplier have a clue if they should cut your glass in half or not to save you money? If we cut too much, the box gets too wide and UPS dimensional charges eat up any savings. We don't have a guy in the back that guesses, we spent over a year programming an algorithm to do this for us, so you ALWAYS get the lowest possible shipping costs. Our computer knows to the penny and a 3mm rod, the best way to ship your order. It tells us which box size to use and if we should cut your glass or not.
Rock Bottom Freight Costs on Pallet Shipments
We don't put items on sale only to hide costs in marked up freight shipping
Free Shipping for Backorders
Going to the continental US (with the exception of 5ft tubing and rod, items requiring freight shipment, or items that would have shipped in their own separate box originally)
Top Rated Customer Service
We Are Here For You Because We Are You. A staff that is knowledgeable, friendly and truly cares about you and your needs. All of our sales staff has some glassblowing experience or regularly works behind a torch.
Free Insurance
On all shipments!
Eco Friendly
Your orders are shipped from a facility that is 100% green powered with all your freight shipments arriving 100% carbon neutral thanks to Terrapass.