Flameworking & Lampworking 101: A Guide to Torch Working with Borosilicate and Soft glass (2023)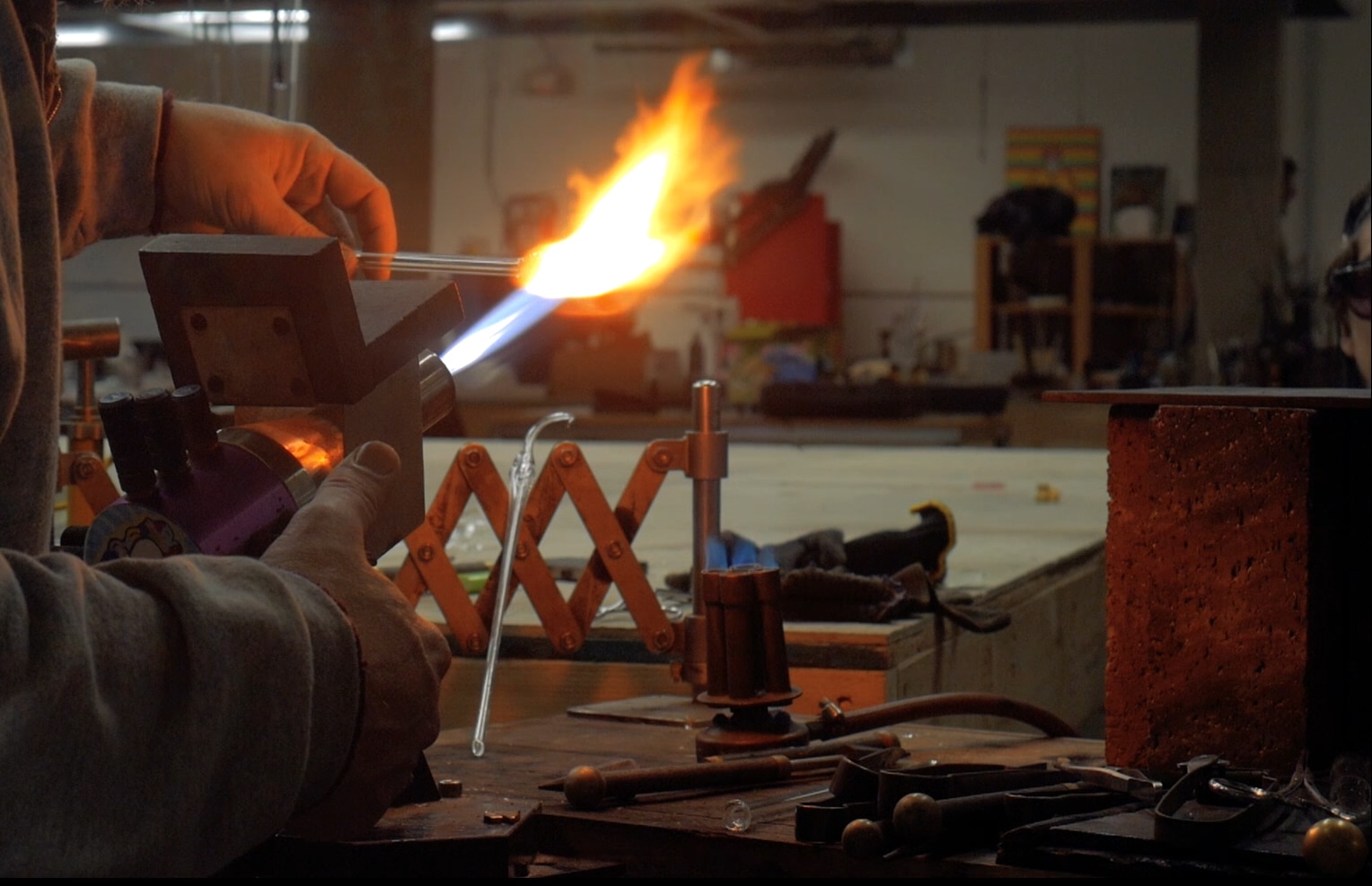 Table of Contents
I. What is Flameworking Glass?
II. Getting Started with Flameworking Glass
III. Safety Considerations in Flameworking Glass
IV. Tools and Techniques Used in Flameworking Glass
V. Common Techniques Used in Flameworking Glass
VI. Popular Projects and Pieces in Flameworking Glass
VII. Advanced Techniques in Flameworking Glass
VIII. Troubleshooting Common Issues in Flameworking Glass
IX. Additional Resources for Learning Flameworking Glass
If you've made it here then you most likely already had the joy of seeing flameworking or glass blowing in person or online. Or maybe you're admiring a piece of glass art and wondering 'how in the heck is this made?' Whether you're an aspiring flameworker or a curious learner, we will help you understand more about what flameworking is and how it is done.

What is Flameworking Glass?
Flameworking glass, also known as lampworking, is a type of glassblowing that uses a torch to melt, heat, and shape glass into whatever your imagination desires. Traditionally called lampworking, the art form dates back to ancient Roman and Egyptian times when people would use an oil lamp to melt the glass. It has since been modernized by using a torch commonly with oxygen and propane to create a flame. Natural gas in place of propane and/or hydrogen in place of oxygen are used in rare situations.
To create a flameworked piece, the artist first heats the glass rods and tubes with a torch until they become soft and pliable. Flameworkers and glass blowers use a variety of tools to make their work; tweezers, paddles, mashers, and most importantly their breathe, to shape and mold the glass pieces.
Once the piece is completed, it is placed in a kiln to anneal and eventually cool down. Depending on the size and complexity of the piece, this process can take anywhere from a few hours to several days.

Getting Started with Flameworking Glass
For those interested in learning how to flamework glass, there are a few key steps to getting started. Here are some tips for beginners:
Take a class: The best way to learn the basics of flameworking glass is to take a class with an experienced instructor. These classes will cover the tools, techniques, and safety measures involved in flameworking glass, and will provide hands-on experience working with the torch and glass rods.

For those unable to visit physical locations to take classes, there are also online classes available that offer full video walkthroughs with flameworking glass instructors such as Revere Glass to learn glass blowing online.


Invest in quality tools and materials: To create high-quality pieces, you need to invest in good tools and materials. This includes a reliable torch, high-quality glass rods, and other essential tools. While it may be tempting to cut corners and save money on these items, it's important to remember that they are the foundation of your art, and investing in good ones will pay off in the long run. All of the equipment can be a little overwhelming, but we offer torchflameworking starter kits to simplify it and get your first torch lit up.


Join a community:Join a local group or online forum to connect with other flameworkers and learn from their experiences. Flameworking glass can be a solitary pursuit, but there are many communities of artists who share tips, techniques, and inspiration.



These are the most active and popular online communities and great places to start:



Practice, practice, practice: As with any art form, the key to mastering flameworking and glass blowing is practice. Spend time experimenting with different techniques and tools, and don't be afraid to make mistakes. The more you practice, the better you will become.

Safety Considerations in Flameworking Glass
Flameworking glass can be a fun and rewarding hobby or profession, but it is important to take safety precautions to avoid accidents and injuries. Safety tips to keep in mind when flameworking glass:
Always wear protective gear when necessary: When working with a torch, it is essential to wear protective gear to protect your eyes, face, and hands from the heat and flame. This includes specialized safety glasses specifically for flameworking, proper clothing, and heat-resistant gloves.


Work in a well-ventilated area: Flameworking and glass blowing produces fumes and smoke, so it is important to work in a well-ventilated area to avoid inhaling these harmful substances. Having proper ventilation is a must. With proper exhaust fans, a hood, good air intake, and ducting a safe working environment is easily achievable.


Keep a fire extinguisher on hand: Accidents can happen, so it's important to always have a fire extinguisher on hand in case of an emergency. Be sure to regularly check that the extinguisher is in good working order and know how to use it properly.


Be aware of your surroundings: When working with a torch, it is important to be aware of your surroundings and avoid potentially dangerous situations. This includes keeping flammable materials away from the flame, and not leaving the torch unattended while it is lit.

Tools and Techniques Used in Flameworking Glass
Flameworking glass requires a variety of tools and techniques to turn dreams into finished glass art. Some of the most common tools and techniques used in flameworking glass: